Main content starts here, tab to start navigating
Menus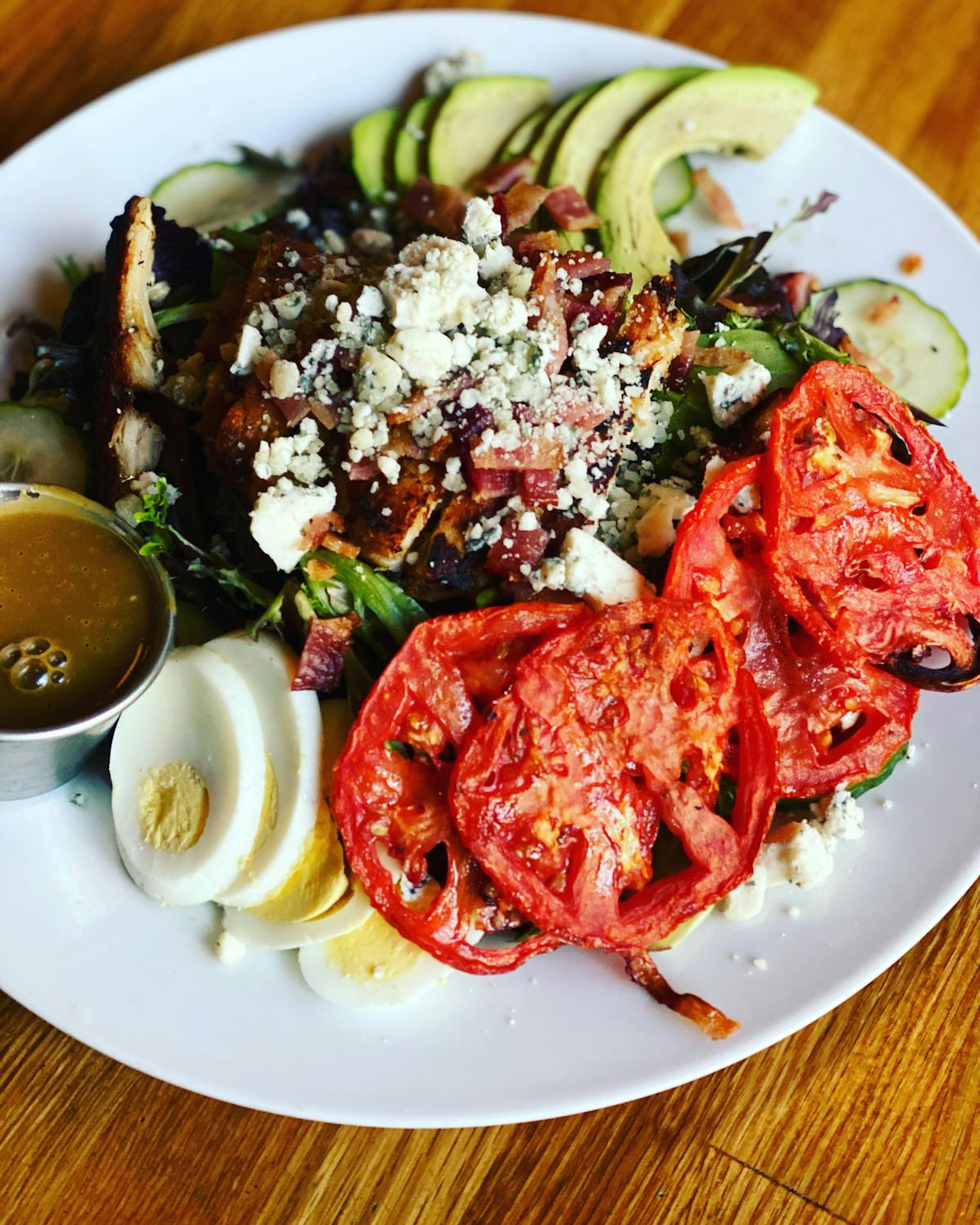 Slide 1 of 3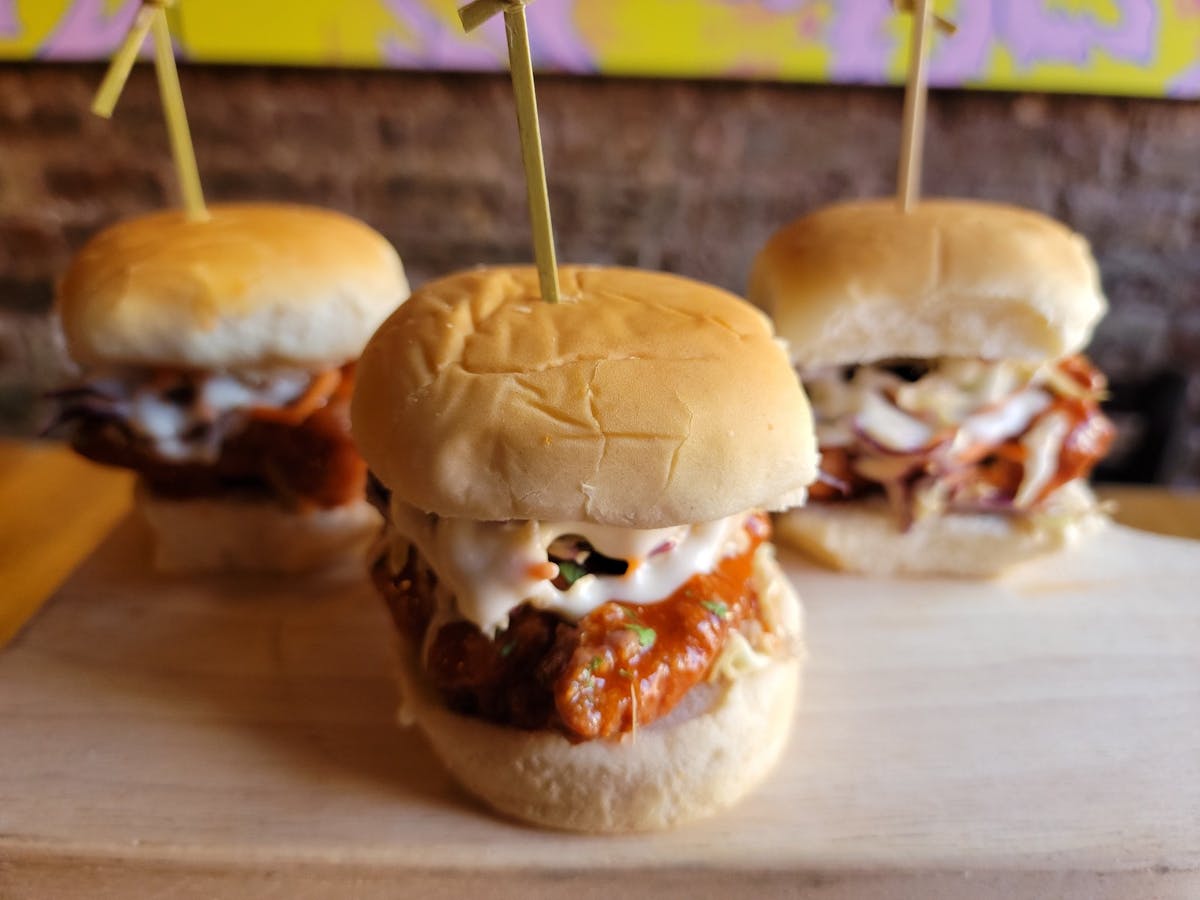 Slide 2 of 3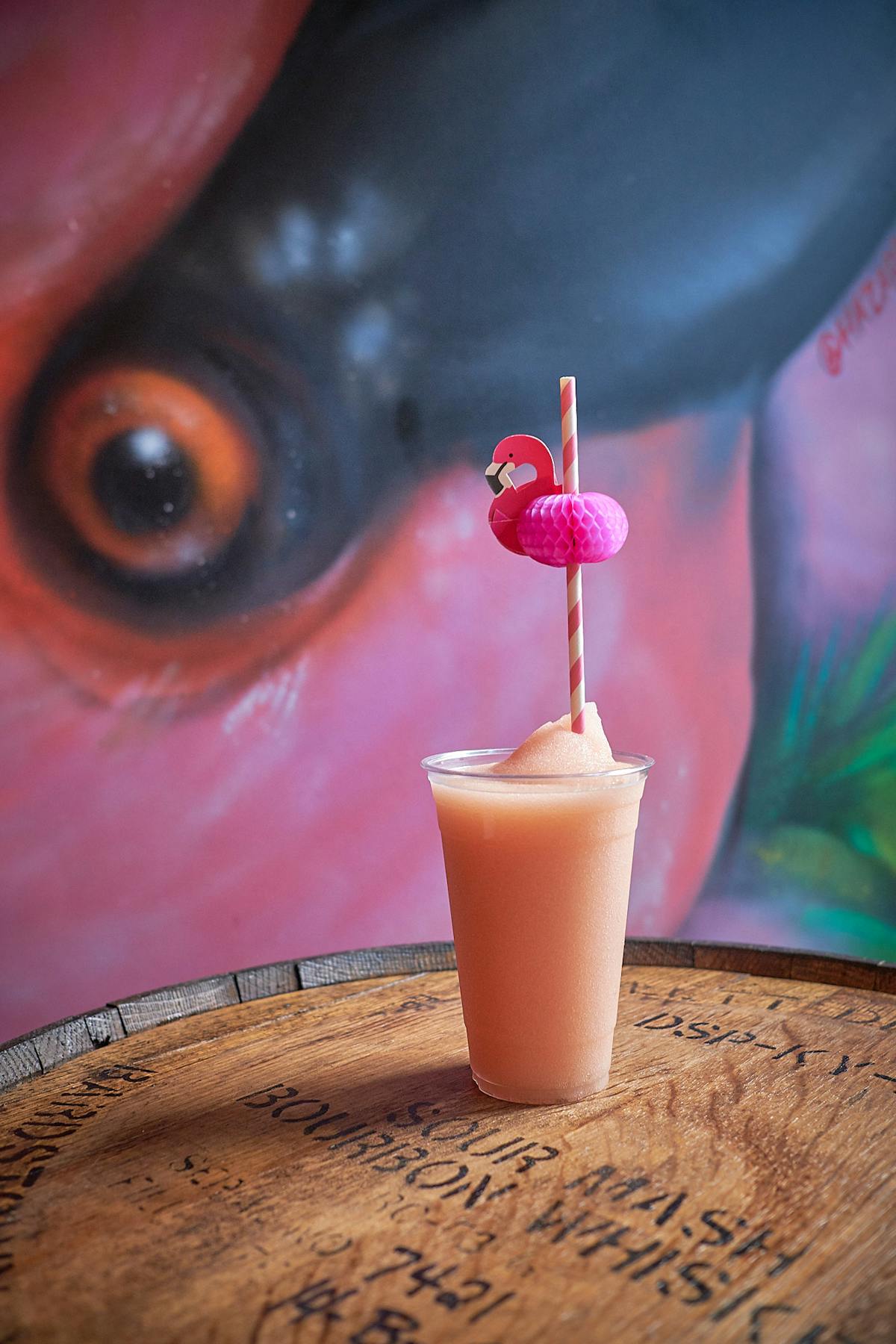 Slide 3 of 3
Starter
Nachos

Tomatoes, cilantro, black beans, salsa, mixed cheese, sweet & sour jalapeños, & sour cream. Add pork belly, pulled chicken, or impossible meat for $4.

$12

Mini Chicken Tacos

Teriyaki chicken, cilantro verde sauce, slaw, & scallions (4)

$12

Chicken Tenders

Served with fries & spicy mayo

$13

Hot Dog

Ketchup or Mustard

$3

dairy free

Fried Wisconsin Cheese Curds

Served with a side of spicy mayo

$7

vegetarian

Fried Mac N Cheese

Served with spicy mayo

$8

vegetarian

Deviled Eggs

Paprika & Scallions

$6

vegetarian

Veggie Spring Rolls

5 mini spring rolls served with ponzu sauce

$6

vegetarian

Pretzel Sticks

Served with quest

$7

vegetarian

Spinach Artichoke Dip

Served with homemade tortilla chips

$13

gluten free, vegetarian

Edamame

Shaken in Teriyaki Sesame

$8

dairy free, gluten free, vegetarian

Chips, Queso & Salsa

$8

gluten free, vegetarian
Wings
Half Dozen Chicken Wings

Choose one finish: buffalo, teriyaki sesame, garlic parmesan, pineapple honey BBQ. Choose one dip: ranch, blue cheese, garlic aioli, spicy mayo

$12

gluten free

Small Fried Cauliflower "Wings"

Choose one finish: buffalo, teriyaki sesame, garlic parmesan, pineapple honey BBQ. Choose one dip: ranch, blue cheese, garlic aioli, spicy mayo

$8

vegetarian

Dozen Chicken Wings

Choose up to two finishes: buffalo, teriyaki sesame, garlic parmesan, pineapple honey BBQ. Choose two dips: ranch, blue cheese, garlic aioli, spicy mayo

$18

gluten free

Large Fried Cauliflower "Wings"

Choose up to two finishes: buffalo, teriyaki sesame, garlic parmesan, pineapple honey BBQ. Choose two dips: ranch, blue cheese, garlic aioli, spicy mayo

$14

vegetarian
Sandwich
Served with house fries or salad. Impossible patty & vegan cheese available.
Wild Whiskey Burger

Paisano's beef blend, cheddar cheese, Wild Turkey bourbon BBQ sauce, onion ring, lettuce.

$19

Someday Burger

Paisanos beef blend, gouda, fried shallot, garlic aioli, greens

$18

Smash Burger

Paisanos beef blend, American, pickle, lettuce, onion, mayo, ketchup

$18

Black & Blue Burger

Paisanos beef blend, blue cheese, caramelized onions, lettuce & house made donkey sauce

$18

Pork Bahn Mi

Thick cut pork belly, pate, pickled daikon & carrot, jalapeño on a hoagie roll

$18

Cheesesteak

Thin sliced steak with sautéed onions, melted provolone on a hoagie roll

$18

Fried Chicken

Buttermilk marinade, spicy aioli, house pickle, iceberg

$18

Adult Happy Meal

Choice between Smash or Someday Burger & two Bluepoint Toasted Lager cans.

$23

Gluten Free Bun

$2

Add Bacon

$3

Truffle Parmesan Fries

$3
Salads
House Salad

Feta cheese, candied walnuts, apples, radish, with Italian dressing

$15

Cobb Salad

Bacon, blue cheese, diced tomato, boiled egg, cucumber & red onion with a honey mustard vinaigrette

$16

Add fried chicken or grilled chicken

$4
Sides
Someday Fries S/L

$3

$5

gluten free, vegan

Truffle Parmesan Fries S/L

$5

$7

gluten free

Side Salad

$5
Dessert
Beignets

Served with strawberry compote

$8

Bourbon Peach Upside Down Cake

$7

Salted Caramel Pretzel Brownie

$8
Daily Specials
Taco Tuesday

$3 tacos & $8 Espolon Blanco Tequila & Mezcal Pierde Almas La Puritita Verda margaritas

Wurst Wednesday

$1 dogs & $5 specialty dogs. $6 select craft cans

Ramen Thursday

Rotating Ramen $16 Ramen & Beer Special. Bowl of Ramen and two select drafts $28
Drinks
Sodas

Coke, diet, sprite, ginger ale, tonic, club soda

$3

Barritt's Ginger Beer

$5

Hot Cider

$5

Coffee

$3

Cold Brew

Brewed by our friends at Aura Coffee in Crown Heights

$4

Hot Tea

$3

Juices

Pineapple, cranberry, orange juice, & grapefruit

$3

Red Bull

Watermelon, sugar free, regular

$5
International Women's Day with Redemption Whiskey
All cocktails available starting at 6pm.
Emily Roebling's Rooster

Redemption Cognac-Finished Bourbon, Espresso, Cynar, Dry Vermouth, Absinthe Rinse, garnished with a Samoa

$15

Pay It No Mind

Redemption Bourbon, Mr. Black Cold Brew, Peanut Orgeat, Pineapple, Lemon, Angostura Bitters, garnished with a Tagalong

$15
Cocktails
Black Hearted

Created in honor of International Women's day. Celebrating two women owned brands. Black Manhattan with Yola Mezcal, Antique Pelinkovav Herbal liqueur, Method Rosso vermouth, Angostura bitters, Maraschino cherry

$15

Dirty Tucker

Bibb & Tucker, cherry cola simple syrup, Angostura bitters, cherry bitters

$15

Giggle Juice

Harridan vodka, St. Germaine, pear puree & pineapple juice.

$14

The Cat's Meow

Kikori, Honey shisho leaf syrup, lemon juice, Martinelli's sparkling apple juice & a dash of allspice. (a $20 charge will be processed if the cat tiki mug is not returned)

$15

Cold Brew Martini

Skyy Vodka, Grand Marnier, Borghetti coffee liqueur, Aura cold brew, & simple syrup

$14

Drink Me Daiquiri

Ume plum liqueur, Bacardi silver rum, fresh lime juice & simple syrup

$14

The Georgie

Wild Turkey 101 bourbon, Angostura bitters, Whiskey barrel bitters & imperial stout simple syrup

$14

Krystal Klear

Espolón Reposado, agave syrup, muddled lemon rind, & an expressed orange peel

$14

The Jabberwocky

Vanilla infused Tanqueray, fresh lemon juice, basil simple syrup, muddled blueberries

$14

Someday "Pink" Margarita

Espolón blanco tequila, Grand Marnier, Campari, lime juice & simple syrup.

$14

Lone Wolf

Montelobos mezcal, Ancho Reyes Chili, Averna, ginger syrup, yuzu juice, fresh lime juice

$14

Summer Crush

Saint Luna Moonshine, Campari, Triple Sec, pineapple juice, grapefruit juice, & cinnamon simple

$14

Bow & Arrow

Sia, Pierde Almas mezcal, lemon juice, cinnamon simple syrup

$15
Boozy Adult Capri Sun Pouches
Red Sangria

Montefresco Montepulciano D'Abruzzo, brandy, fresh apple and oranges

$13

Spicy Grapefruit Margarita

House infused jalapeño Espolón tequila, triple sec, fresh lime, grapefruit juice, agave, & fresh jalapeño

$13

Mr. Flamingo

Brooklyn twist on a tropical classic. Bacardi 4 year, Coruba dark drum, Bacardi Silver, Aperol, coconut oil infused agave, lime juice & pineapple juice

$13

Cucumber Gimlet

Fort Hamilton Cucumber infused gin, mint simple syrup, lime juice

$13
Hot Cocktails
Pomander

House mulled cider with your choice of Redemption Bourbon or Tanduay spiced rum.

$12

Hot Hot Heat

Smoke Lab Aniseed vodka, Ancho Reyes Chili liqueur, & hot chocolate

$13

Orange Spiced Toddy

Orange Spice Misguided Spirits Working Man's Rye, honey syrup & lemon juice

$13
Wines
Montefresco Pinot Grigio

Venzie, IT. 2018

$9

$36

Massey Dacta Sauvignon Blanc

Marlborough, NZ 2019

$10

$40

Cantina Di Lana Prosecco

Fossalta Di Piave, IT

$10

$40

Les Jamelles Pinot Noir

Pays D'OC, FR 2020

$10

$40

Parceleros Malbec

Mendoza, AR 2018

$10

$40

Montefresco Montepulciano D'Abruzo

Venzie, IT. 2018

$9

$36

Vina Galana Rose

Albacete SP, 2019

$10

Misguided Vines Aurora

Mazara del Vallo, IT. 2021

$10

$40

Misguided Vines Vulcan

Mazara del Vallo, IT. 2021

$13

$50

Jam'n Rose Sangria

Sweet Rose

$8

$30

Bibbiano Scappalepre Toscano Rosato Bottle

Chianti, IT 2018

$36
Canned Cocktails
Santa Teresa 1796 Rum Old Fashioned for two

Canned 8oz cocktail for two. Santa Teresa 1796, simple syrup, & cantinero coffee bitters.

$12

Sippony Honey & Whiskey

$9

QNSY Mojito

$9

QNSY Cosmo

$9
Beer & Shot
Deep South

Shot of Misguided Spirits Sacred Heart Tequila or Montelobos Mezcal with a Snappy Lite Lager

$12

Low Life

Shot of Wild Turkey 101 & Narragansett can.

$10

Pony Back

Pony bottle of Miller High Life with a shot of Roe & Co whiskey and pickle juice

$9

Nothing Basic About It

Fountain Tropical hard seltzer & a shot of any Misguided Spirits liquor: Howe & Hummel White Crook Vodka, Bathhouse John Grown Man Gin, Caribbean Queen Rum, Scared Heart Tequila, & Workinman's Rye Whiskey.

$10

Hey There Buddy

Shot of Fernet and an 8oz Hopewell Little Buddy Lager Can

$12

Jello Shot

Skyy Watermelon vodka lemonade

$4

Homemade Limoncello Shot

$8
Mocktails
Rose Colored Glasses

Rose water, fresh lemon juice, hibiscus simple syrup, club soda and a dried rose bud

$5

Optical Illusion

Lyre's dry london spirit n/a gin, hibiscus simple, lemon, egg white, club soda served in a coup glass.

$9

Winter Spritz

Lyre's italian orange, lyre's apertif rosso, grapefruit juice, cinnamon simple, topped with club soda

$9

Lyre's American Malt & Cola

N/A Whiskey & Coke

$6

Fake It Till You Make It

Lyre's N/A Amaretto, fresh lemon juice, simple syrup & egg white.

$10
Brunch Entrees
Breakfast Platter

Two eggs served fried, over easy, or scrambled. Three pieces of bacon and home fries tossed with onions & red, yellow and orange peppers.

$16

gluten free

Buttermilk Pancakes

Fluffy southern inspired pancakes served with a side of coffee maple syrup.

$16

vegetarian

Biscuits & Gravy

Two homemade biscuits topped with creamy sausage and two eggs served fried, over easy, or scrambled.

$16

Breakfast Burger

Two 4oz smash burgers topped with bacon, a fried egg, cheddar & lettuce. Served with our breakfast sauce and a choice of home fries or french fries.

$17

Shrimp Grits

Floridian inspired sharp white cheddar grits, topped with sautéed shrimp and a cajun drizzle.

$16
Brunch Sides
Bacon

$6

Cheese Grits

$5

Side Biscuits

$5

Home Fries

$5

Two Eggs

Served over easy, scrambled or fried.

$5

Side of Fries

$5
Drinks
Howling Irishman

Howler Head Banana whiskey, Irishman irish cream liqueur, Borgetti espresso liqueur , cold brew, allspice

$12

Talking Flowers

Roe & Co Whiskey, St Germaine Elderflower Liqueur, muddled cucumber, simple syrup, & fresh lemon juice

$14

Cold Brew Martini

Skyy Vodka, Mr Black, cold brew coffee.

Aperol Spritz

Aperol, Prosecco, & club soda

$12

Watermelon Red Bull Spicy Margarita

Muddled Jalapeño, Espolon Silver, Lime Juice, Watermelon Red Bull.

$11

Bloody Mary

Smoke Lab Vodka Homemade bloody mix.

$10

Add bacon $2

Bourbon Bloody

Wild Turkey 101 Bourbon, Ancho Reyes Verde, lime juice & house made bloody mary mix

$10

2 Hour Unlimited Mimosas

$25
Lunch Appetizers
Cheese Curds

With spicy mayo.

$6

Pretzel Sticks

With beer cheese.

$7

Chicken Tenders

Served with fries and spicy mayo.

$13

Spinach Artichoke Dip

Homemade tortilla chips.

$13

Deviled Eggs

$5

Small Fried Cauliflower

Choose one finish: Buffalo, Teriyaki Sesame, Garlic Parmesan, Pineapple Honey BBQ... Choose one dip: Ranch, Blue Cheese, Garlic Aioli, Spicy Mayo.

$8

Large Fried Cauliflower

Choose one finish: Buffalo, Teriyaki Sesame, Garlic Parmesan, Pineapple Honey BBQ... Choose one dip: Ranch, Blue Cheese, Garlic Aioli, Spicy Mayo.

$14

Half Dozen Chicken Wings

Choose one finish: Buffalo, Teriyaki Sesame, Garlic Parmesan, Pineapple Honey BBQ... Choose one dip: Ranch, Blue Cheese, Garlic Aioli, Spicy Mayo.

$12

Dozen Chicken Wings

Choose one finish: Buffalo, Teriyaki Sesame, Garlic Parmesan, Pineapple Honey BBQ... Choose one dip: Ranch, Blue Cheese, Garlic Aioli, Spicy Mayo.

$18
Lunch Entrees
Served with house fries or salad. Impossible patty & vegan cheese available. Add bacon $3 or Gluten Free Bun $2
Fried Chicken Sandwich

Buttermilk marinade, spicy aioli, house pickle, iceberg lettuce.

$18

Black & Blue Burger

Paisanos beef blend, blue cheese, caramelized onions, lettuce & house made donkey sauce.

$18

Cobb Salad

Bacon, blue cheese, roasted tomato, boiled egg, cucumber & red onion with a honey mustard vinaigrette.

$16

Add grilled or fried chicken

$4