Main content starts here, tab to start navigating
Menus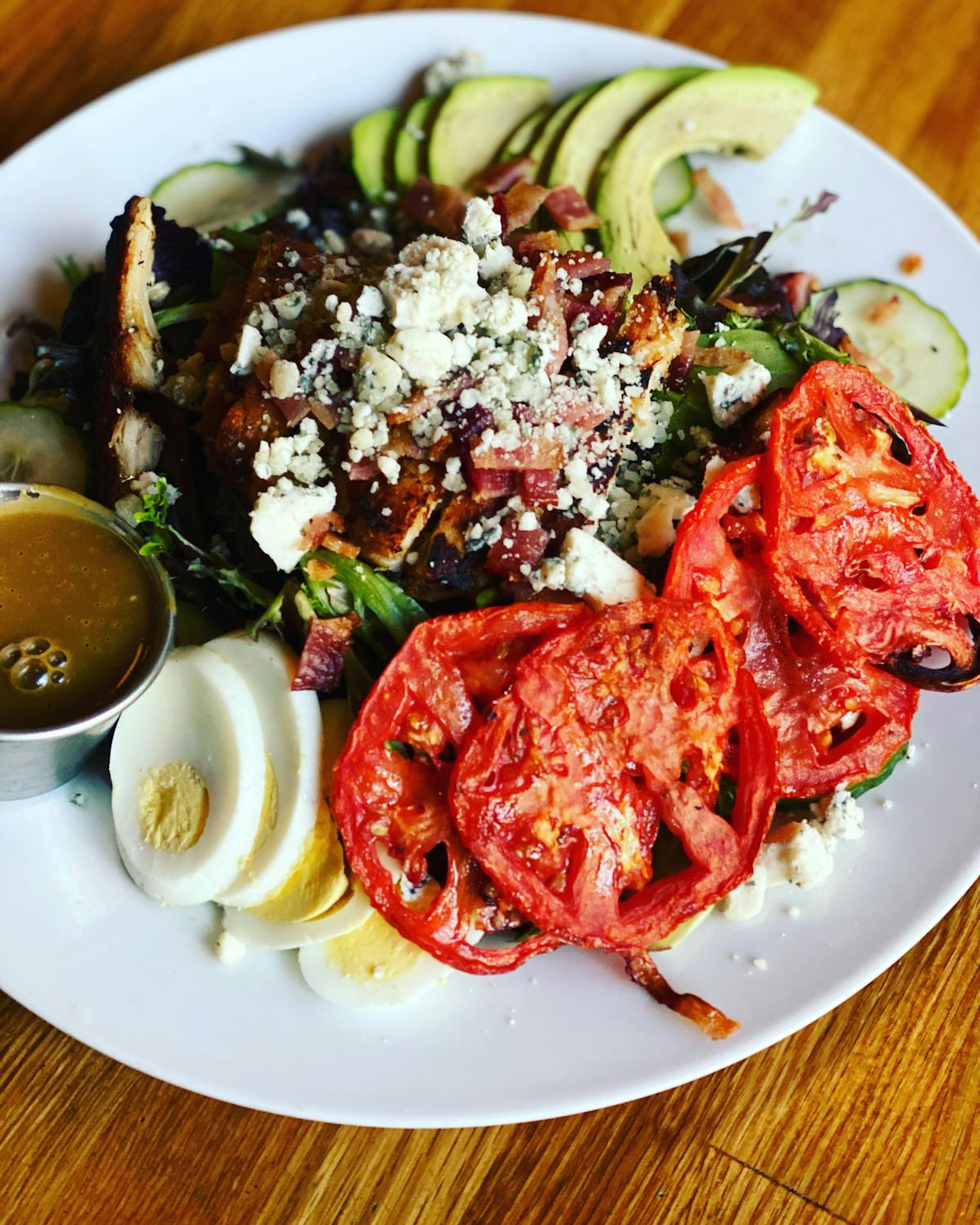 Slide 1 of 3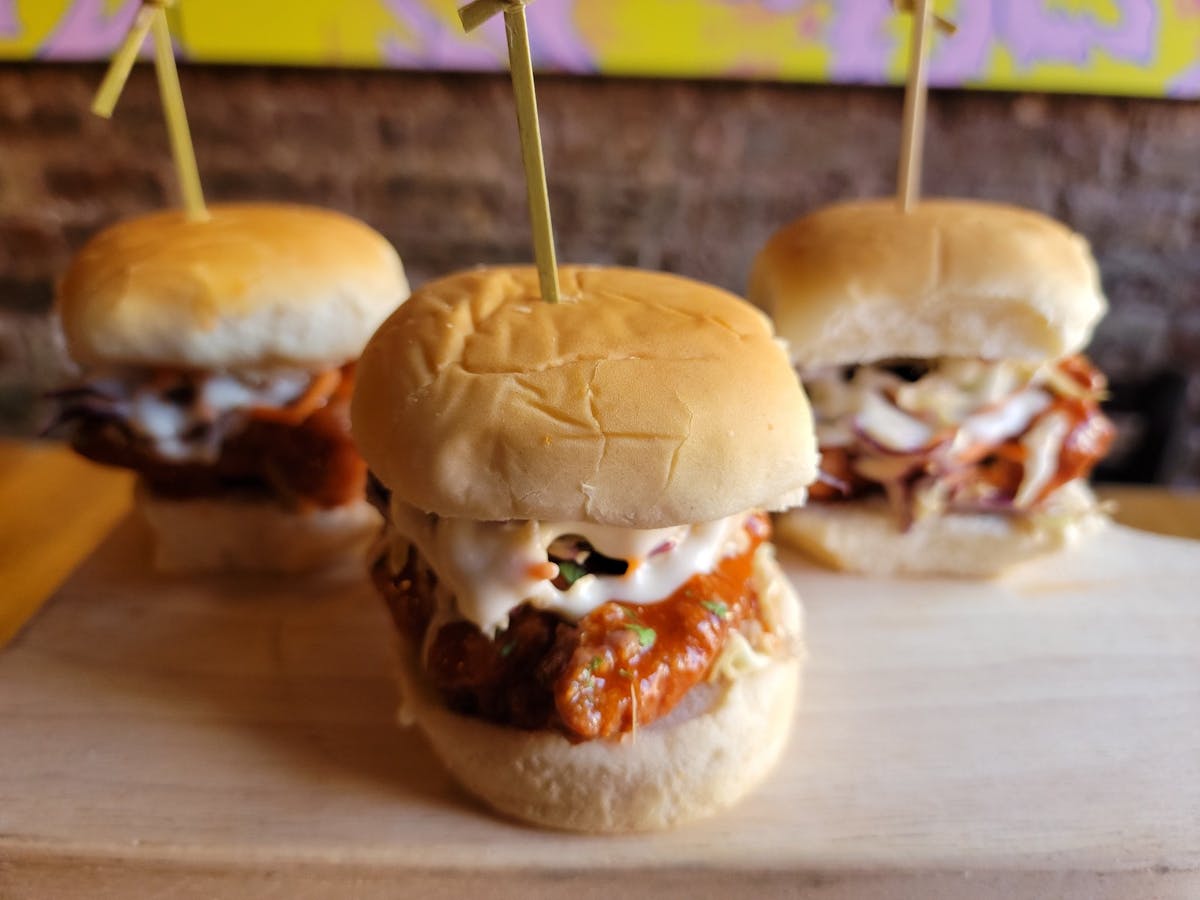 Slide 2 of 3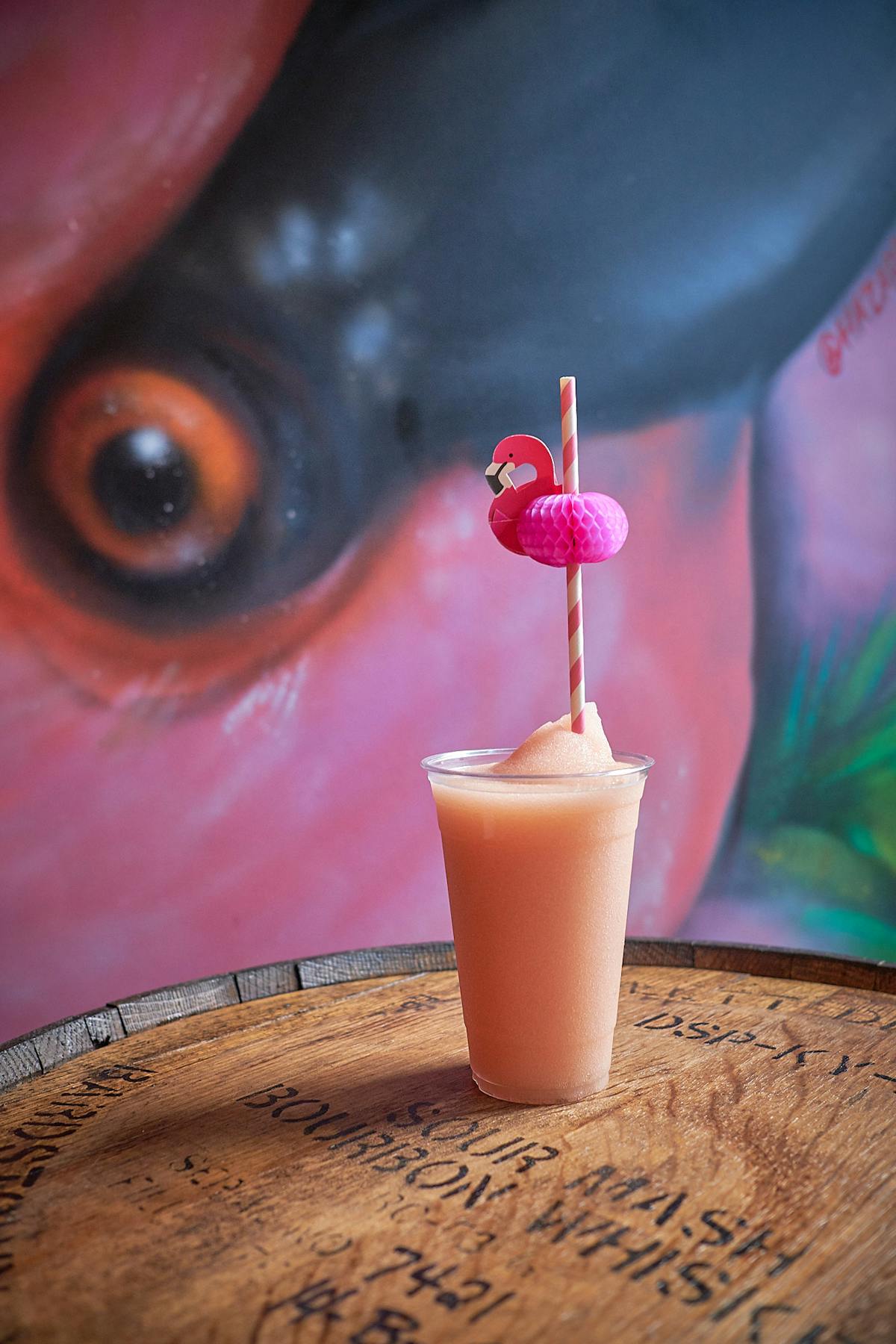 Slide 3 of 3
Starter
Mini Chicken Tacos

Teriyaki chicken, cilantro verde sauce, slaw, & scallions (4)

$12

Chicken Tenders

Served with fries & spicy mayo

$13

Add spicy mustard $1

Hot Dog

Ketchup or Mustard

$3

dairy free

Fried Wisconsin Cheese Curds

Served with a side of spicy mayo

$7

vegetarian

Fried Mac N Cheese

Served with spicy mayo

$8

vegetarian

Deviled Eggs

Paprika & Scallions

$6

vegetarian

Veggie Spring Rolls

5 mini spring rolls served with ponzu sauce

$5

vegetarian

Pretzel Sticks

Served with beer cheese

$7

vegetarian

Spinach Artichoke Dip

Served with homemade tortilla chips

$13

gluten free, vegetarian

Edamame

Shaken in Teriyaki Sesame

$8

dairy free, gluten free, vegetarian

Bacon Mac N Cheese

$13

Chips, Queso & Salsa

$8

gluten free, vegetarian
Wings
Half Dozen Chicken Wings

Choose one finish: buffalo, teriyaki sesame, garlic parmesan, pineapple honey BBQ. Choose one dip: ranch, blue cheese, garlic aioli, spicy mayo

$12

gluten free

Small Fried Cauliflower "Wings"

Choose one finish: buffalo, teriyaki sesame, garlic parmesan, pineapple honey BBQ. Choose one dip: ranch, blue cheese, garlic aioli, spicy mayo

$8

vegetarian

Dozen Chicken Wings

Choose up to two finishes: buffalo, teriyaki sesame, garlic parmesan, pineapple honey BBQ. Choose two dips: ranch, blue cheese, garlic aioli, spicy mayo

$18

gluten free

Large Fried Cauliflower "Wings"

Choose up to two finishes: buffalo, teriyaki sesame, garlic parmesan, pineapple honey BBQ. Choose two dips: ranch, blue cheese, garlic aioli, spicy mayo

$14

vegetarian
Sandwich
Served with house fries or salad. Impossible patty & vegan cheese available.
Someday Burger

Paisanos beef blend, gouda, fried shallot, garlic aioli, greens

$18

Smash Burger

Paisanos beef blend, American, pickle, lettuce, onion, mayo, ketchup

$18

Black & Blue Burger

Paisanos beef blend, blue cheese, caramelized onions, lettuce & house made donkey sauce

$18

Fried Chicken

Buttermilk marinade, spicy aioli, house pickle, iceberg

$18

Adult Happy Meal

Choice between Smash or Someday Burger & two Bluepoint Toasted Lager cans.

$23

Gluten Free Bun

$2

Add Bacon

$3

Truffle Parmesan Fries

$3
Salads
Salad

Carrot, red cabbage, cucumber, red onion with a creamy cilantro lime dressing

$12

Cobb Salad

Bacon, blue cheese, roasted tomato, boiled egg, cucumber & red onion with a honey mustard vinaigrette

$16

Add Fried Chicken or Grilled Chicken

$4
Sides
Someday Fries S/L

$3

$5

gluten free, vegan

Truffle Parmesan Fries S/L

$5

$7

gluten free

Side Salad

$5
Dessert
Beignets

Served with strawberry compote

$8

Bourbon Peach Upside Down Cake

$7

Salted Caramel Pretzel Brownie

$8
Daily Specials
Taco Tuesday

$3 tacos & $8 Espolon Blanco Tequila & Mezcal Pierde Almas La Puritita Verda margaritas

Wurst Wednesday

$1 dogs & $5 specialty dogs. $6 select craft cans

Bao Bun Thursday

Every Thursday during we will be having Bao Bun Thursdays. Bao & Beer Special. Two buns and two select drafts $21

Slider Specials

$12 for 3 on Mondays. Sliders ask your bartender
Drinks
Sodas

Coke, diet, sprite, ginger ale, tonic, club soda

$3

Barritt's Ginger Beer

$5

Hot Cider

$5

Coffee

$3

Cold Brew

Brewed by our friends at Aura Coffee in Crown Heights

$4

Hot Tea

$3

Juices

Lemonade, pineapple, cranberry, orange juice, grapefruit, lemonade

$3

Red Bull

Watermelon, sugar free, regular

$5
Cocktails
Cranberry Spiced Old Fashioned

Roe & Co whiskey, spiced simple syrup, & cranberry bitters

$14

The Cat's Meow

Kikori, Honey shisho leaf syrup, lemon juice, Martinelli's sparkling apple juice & a dash of allspice. (a $20 charge will be processed if the cat tiki mug is not returned)

$15

Drink Me Daiquiri

Ume plum liqueur, Bacardi silver rum, fresh lime juice & simple syrup

$14

The Georgie

Wild Turkey 101 bourbon, Angostura bitters, Whiskey barrel bitters & imperial stout simple syrup

$14

Krystal Klear

Espolón Reposado, agave syrup, muddled lemon rind, & an expressed orange peel

$14

The Jabberwocky

Vanilla infused Tanqueray, fresh lemon juice, basil simple syrup, muddled blueberries

$14

Giggle Juice

Ketel One vodka, St. Germaine, pear puree & pineapple juice.

$14

Someday "Pink" Margarita

Espolón blanco tequila, Grand Marnier, Campari, lime juice & simple syrup.

$14

Limoncito

Sia, Velvet Falernum, Coco Lopez, & lime juice

$14

Lone Wolf

Montelobos mezcal, Ancho Reyes Chili, Averna, ginger syrup, yuzu juice, fresh lime juice

$14

Cold Brew Martini

Skyy vodka, Grand Marnier, Borghetti coffee liqueur, Aura cold brew, & simple syrup

$14

Summer Crush

Saint Luna Moonshine, Campari, Triple Sec, pineapple juice, grapefruit juice, & cinnamon simple

$14
Boozy Adult Capri Sun Pouches
Pumpkin Juice

Tanduay Spiced Rum, spiced simple syrup, pumpkin puree, lemon juice & club soda

$13

Red Sangria

Montefresco Montepulciano D'Abruzzo, brandy, fresh apple and oranges

$13

Spicy Grapefruit Margarita

House infused jalapeño Espolón tequila, triple sec, fresh lime, grapefruit juice, agave, & fresh jalapeño

$13

Mr. Flamingo

Brooklyn twist on a tropical classic. Bacardi 4 year, Coruba dark drum, Bacardi Silver, Aperol, coconut oil infused agave, lime juice & pineapple juice

$13

Cucumber Gimlet

Fort Hamilton Cucumber infused gin, mint simple syrup, lime juice

$13
Hot Cocktails
Coming soon...
Pomander

House mulled cider with your choice of Redemption Bourbon or Tanduay spiced rum.

$12

Hot Hot Heat

Smoke Lab Aniseed vodka, Ancho Reyes Chili liqueur, & hot chocolate

$13

Orange Spiced Toddy

Orange Spice Misguided Spirits Working Man's Rye, honey syrup & lemon juice

$13
Wines
Montefresco Pinot Grigio

Venzie, IT. 2018

$9

$36

Massey Dacta Sauvignon Blanc

Marlborough, NZ 2019

$10

$40

Cantina Di Lana Prosecco

Fossalta Di Piave, IT

$10

$40

Les Jamelles Pinot Noir

Pays D'OC, FR 2020.

$10

$40

Parceleros Malbec

Mendoza, AR 2018

$10

$40

Montefresco Montepulciano D'Abruzo

Venzie, IT. 2018

$9

$36

Vina Galana Rose

Albacete SP, 2019.

$10

Bibbiano Scappalepre Toscano Rosato Bottle

Chianti, IT 2018.

$36

Jam'n Rose Sangria Bottle

$25
Canned Cocktails
Santa Teresa 1796 Rum Old Fashioned for two

Canned 8oz cocktail for two. Santa Teresa 1796, simple syrup, & cantinero coffee bitters.

$24

Babe Rose

Sparkling rose

$9

Sippony Honey & Whiskey

$9

Ciroc Watermelon Kiwi

$9

QNSY Cosmo

$9
Beer & Shot
Deep South

Shot of Misguided Spirits Sacred Heart Tequila or Montelobos Mezcal with a Ebbs Kolsch

$12

Low Life

Shot of Wild Turkey 101 & Narragansett can.

$10

Pony Back

Pony bottle of Miller High Life with a shot of Roe & Co whiskey and pickle juice

$8

Nothing Basic About It

Fountain Tropical hard seltzer & a shot of any Misguided Spirits liquor: Howe & Hummel White Crook Vodka, Bathhouse John Grown Man Gin, Caribbean Queen Rum, Scared Heart Tequila, & Workinman's Rye Whiskey.

$10

Jello Shot

Skyy Watermelon vodka lemonade

$4
Mocktails
Rose Colored Glasses

Rose water, fresh lemon juice, hibiscus simple syrup, club soda and a dried rose bud

$5

Optical Illusion

Lyre's dry london spirit n/a gin, hibiscus simple, lemon, egg white, club soda served in a coup glass.

$9

Winter Spritz

Lyre's italian orange, lyre's apertif rosso, grapefruit juice, cinnamon simple, topped with club soda

$9

Lyre's Gin & Tonic Can

N/A Gin and Tonic

$6
Brunch Entrees
Breakfast Platter

Two eggs served fried, over easy, or scrambled. Three pieces of bacon and home fries tossed with onions & red, yellow and orange peppers.

$16

gluten free

Buttermilk Pancakes

Fluffy southern inspired pancakes served with a side of coffee maple syrup.

$16

vegetarian

Biscuits & Gravy

Two homemade biscuits topped with creamy sausage and two eggs served fried, over easy, or scrambled.

$16

Breakfast Burger

Two 4oz smash burgers topped with bacon, a fried egg, cheddar & lettuce. Served with our breakfast sauce and a choice of home fries or french fries.

$17

Shrimp Grits

Floridian inspired sharp white cheddar grits, topped with sautéed shrimp and a cajun drizzle.

$16
Brunch Sides
Bacon

$6

Cheese Grits

$5

Side Biscuits

$5

Home Fries

$5

Two Eggs

Served over easy, scrambled or fried.

$5

Side of Fries

$5
Drinks
Talking Flowers

Roe & Co Whiskey, St Germaine Elderflower Liqueur, muddled cucumber, simple syrup, & fresh lemon juice

$14

Cold Brew Martini

Skyy Vodka, Mr Black, cold brew coffee.

Aperol Spritz

Aperol, Prosecco, & club soda

$12

Watermelon Red Bull Spicy Margarita

Muddled Jalapeño, Espolon Silver, Lime Juice, Watermelon Red Bull.

$11

Pink Drink

Longbranch, raspberry syrup, lemon juice, & club soda

$12

Bloody Mary

Smoke Lab Vodka Homemade bloody mix.

$10

Add bacon $2

Bourbon Bloody

Wild Turkey 101 Bourbon, Ancho Reyes Verde, lime juice & house made bloody mary mix

$10

Red Eye Old Fashioned

Redemption Rye, Borghetti coffee liqueur, Simple Syrup, Chocolate Mole Bitters

$14

2 Hour Unlimited Mimosas

$25
Lunch Appetizers
Cheese Curds

With spicy mayo.

$6

Pretzel Sticks

With beer cheese.

$7

Chicken Tenders

Served with fries and spicy mayo.

$13

Spinach Artichoke Dip

Homemade tortilla chips.

$13

Deviled Eggs

$5

Small Fried Cauliflower

Choose one finish: Buffalo, Teriyaki Sesame, Garlic Parmesan, Pineapple Honey BBQ... Choose one dip: Ranch, Blue Cheese, Garlic Aioli, Spicy Mayo.

$8

Large Fried Cauliflower

Choose one finish: Buffalo, Teriyaki Sesame, Garlic Parmesan, Pineapple Honey BBQ... Choose one dip: Ranch, Blue Cheese, Garlic Aioli, Spicy Mayo.

$14

Half Dozen Chicken Wings

Choose one finish: Buffalo, Teriyaki Sesame, Garlic Parmesan, Pineapple Honey BBQ... Choose one dip: Ranch, Blue Cheese, Garlic Aioli, Spicy Mayo.

$12

Dozen Chicken Wings

Choose one finish: Buffalo, Teriyaki Sesame, Garlic Parmesan, Pineapple Honey BBQ... Choose one dip: Ranch, Blue Cheese, Garlic Aioli, Spicy Mayo.

$18
Lunch Entrees
Served with house fries or salad. Impossible patty & vegan cheese available. Add bacon $3 or Gluten Free Bun $2
Fried Chicken Sandwich

Buttermilk marinade, spicy aioli, house pickle, iceberg lettuce.

$18

Black & Blue Burger

Paisanos beef blend, blue cheese, caramelized onions, lettuce & house made donkey sauce.

$18

Cobb Salad

Bacon, blue cheese, roasted tomato, boiled egg, cucumber & red onion with a honey mustard vinaigrette.

$16

Add grilled or fried chicken

$4